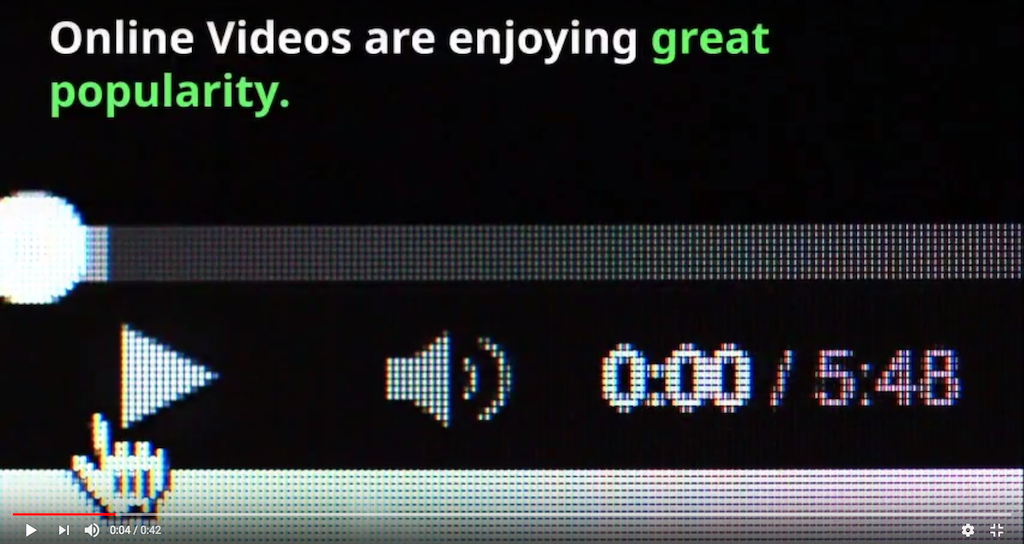 Online videos are booming. Up to eight billion films run daily on Facebook alone. And the web is becoming increasingly visual. According to the Cisco Visual Networking Index, video will finally dominate data traffic over the next five years. It goes without saying that the big companies have long jumped on the bandwagon and are starting to set up social media video teams. But even with a smaller budget, considerable results can be achieved. In this article I'll introduce ten tools you can use to create videos for your social networks – without a film team and at a manageable cost. 
I'd like to start my line-up with Lumen5, which is one of the most exciting tools I've seen in the past year. In short, it turns your blog posts into videos without you having to do much. After the free registration you simply click on the button "CREATE VIDEO" in the upper right corner. Then enter the URL of your blog post (or copy the text of the article into the field). In the next step, select the sentences you want to appear in the video from your post. Lumen5 automatically searches for matching background images and videos. Of course, you can change these at any time and/or replace them with your own. Then choose a suitable background music and embed your logo in the video and you have already filmed your blog post or article. And thanks to the superimposed texts, the video also works without sound. You can upload the final result directly on Facebook or download it to your computer for free in a lower resolution (=480p SD, a sufficient resolution for most cases). Who needs the videos in a resolution of 720pHD or 1080pHD or does not want, the Lumen5 at the end of the film its own logo integrates, must pay for it. At the moment 99,–$ per month.

Easy to use is also mysimpleshow.com. With the tool you can create an explainer video in a few steps, in which you simplify complex processes and make them understandable for everyone. Mysimpleshow creates a Whiteboard Animation for this. Animated hands push drawn elements onto the screen, while a voice in the background explains the facts. Want an example?

Similarly, Videoscribe works as an app in the appstore (unfortunately there is no Android version yet) and as a separate program (with a seven day free trial version) for your computer. There, however, the hand does not push the elements onto the screen, but draws them while viewing. How this looks like, you can see in this example:
High-quality videos can also be created on the smartphone. I described how this works in this workshop. But even from your photos you can produce vivid films in a matter of seconds. For example with Quick, which is available as an app for Android in the Playstore and for iPhones in the Appstore. The app provides countless templates in which you can insert your own texts and images and then set them to music from Quick's large library.

Adobe has several free apps to help you quickly and easily build great videos for your social media sites or your site. One of these is Adobe Spark, which is available for the iPhone (link to the appstore) and soon for Android (see Adobe's announcement). Again, you have the choice of countless templates to create your video with. The result can then look like this:
Similarly easy to use is Adobe Premiere Clips, the rather slimmed-down version of the editing program of the same name. But now it is easy for laymen to understand. And there is a free app for both iPhone (link to appstore) and Android (link to playstore). Here is an example video:
Another app with which you can get nice results relatively quickly is Splice (currently only available for the iPhone. link to the appstore). I have rarely experienced an app that is so easy to use. You put together your film from short videos and/or pictures, speak a text about it if necessary and give the video a background music from the large and free database of Splice. The little film is finished and can be played directly on Facebook, YouTube or saved on the phone. Another advantage: Splice can handle both portrait and landscape formats (which are becoming increasingly popular). I created this video with Splice:
Square films are not only popular at Instagram. Although the platform has long allowed films in landscape format, they are only shown in very small format. The square format is therefore the first choice for Instagram. An app that makes it easy to create such videos is Apple Clips (unfortunately only available for the iPhone. Link to the Appstore). You can see an example here:


Ripl, an app for both iPhone (link to appstore) and Android (link to playstore), is also aimed at instagrammers. In the basic version (which displays a Ripl logo at the bottom right) the app is free. You can use it to quickly make a small video that looks like this or similar from a few photos and some templates as well as music from Ripl:


Texts are good. But animated texts are a real eye-catcher. The Legend app makes it child's play to add animated text to images. Results can be exported as square video or as (also square) animated gif. Legend costs 1,99 € and is available in the Appstore and for Android.